Therapy-G is not a drug and is made from all natural ingredients. Its patented formula includes unique advances such as tryptobond guard™, and the Moist Application Process (MAP)™. These technologies allows Therapy-G to be highly effective in the treatment of thinning and fine hair without subjecting you to the side-effects of drugs
Everyone will benefit from using Therapy-G; the degree of success with Therapy-G will vary among users. As long as the papilla stays active and produces hair cells and the follicle remains unobstructed, a healthy condition exists and regrowth can continue. Therapy-G will create the optimal environment to enable the renewed growth. Therapy-G will protect the hair and reduce additional hair loss, and also create thicker fuller healthy hair.
Therapy-G Antioxidant Shampoo (Cleansing)
This unique system is the 1st to offer DEEP CLEANSING AND NEUTRALIZATION of toxins, free radicals, and DHT while at the same time stimulating renewed growth by nourishing the follicles, and without drying the hair and scalp.
Designed to reduce hair loss

Shampoo removes DHT, the #1 cause for Genetic Hair loss

The Antioxidants eliminates Free Radicals

Removes sebum and other build-up in the follicle

Antioxidant Shampoo for Chemically-Treated Hair gives extra-gentle cleansing & extra moisturizing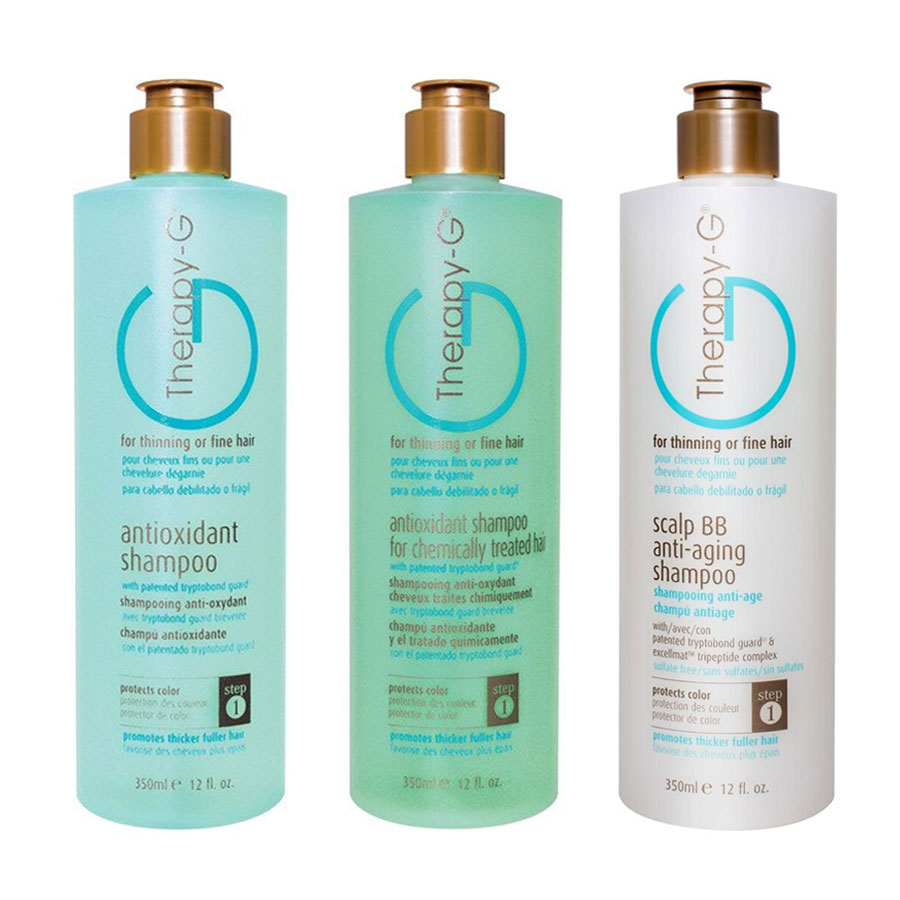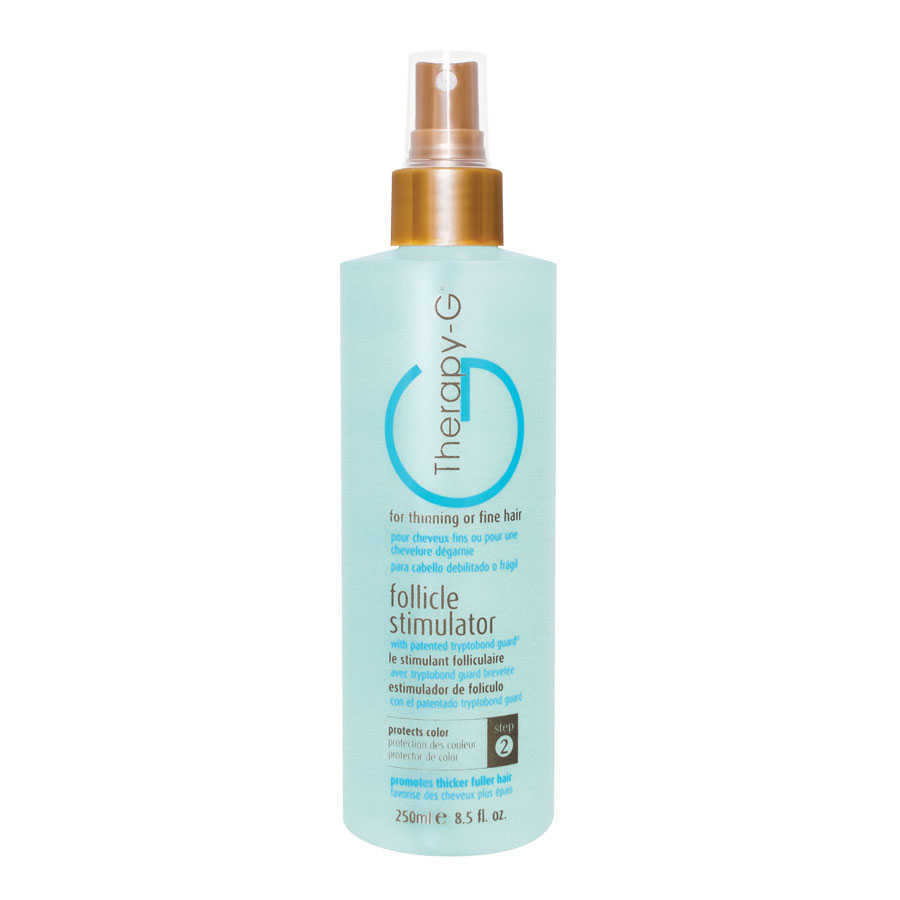 Follicle Stimulator (Nourishing)
Delivers Tryptobond Guard to each hair shaft. This is the patented complex of ingredients, which increases your hair's mechanical strength, increases combability (less tangling), and protects against color changes.
Stimulates blood circulation to the hair follicle

Extends the Growth Cycle of hair
With the Moist Application Process, the nutrients are more effective vs. a leave-in surface application product

Tryptobond Guard attaches itself to the hair to strengthen & protect from color fading

CONDITIONING TREATMENT is a quick-to-use, thorough conditioner that instantly detangles the hair. It produces incredible shine and manageability
Moisturizes the scalp & hair

Stimulates the scalp, infuses moisture, relieves dryness flaking and itching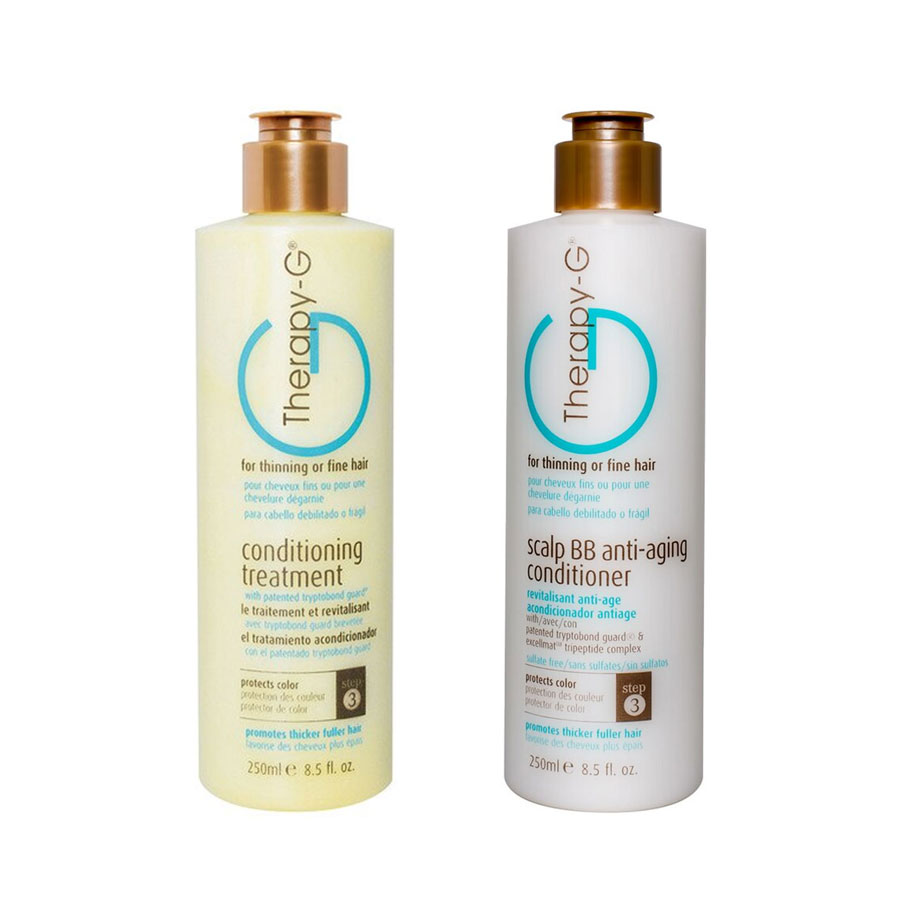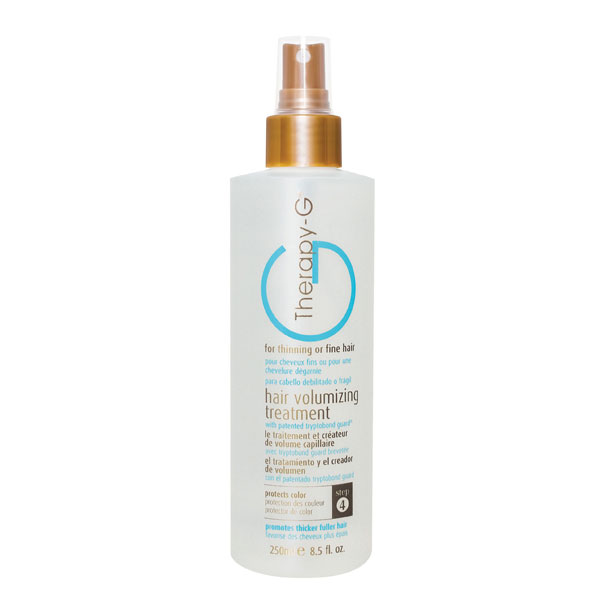 Towel-dry hair and apply VOLUMIZING TREATMENT. You are now creating thicker, fuller, flexible hair. Tryptobond Guard attaches itself to each hair strand it comes in contact with. It strengthens, nourishes, and improves the texture of thinning or fine hair. Great styling ability WITHOUT fear of breakage is now available!
Instant Gratification for creating thicker, fuller hair

Protects hair against styling stress

You should notice a reduction in the amount of hair loss within the first 30 days. Renewed growth from active follicles could develop between 3-5 months. Remember that your hair did not thin overnight, and it will not return overnight. Correct and consistent use of the Therapy-G system and a little patience will enable you to achieve success.